Home
-
Return to Previous Page
BigHead Actuator, BigHead Wastegate Actuator Kit 2001-2004 Chevy 6.6L for 2001-2004 Chevy/GMC 2500/3500 6.6L Duramax
BigHead® ActuatorBigHead Wastegate Actuator Kit 2001-2004 Chevy 6.6L
for 2001-2004 Chevy/GMC 2500/3500 6.6L Duramax
For higher peak boost, sooner
Under high-boost conditions, the stock actuator's weak spring allows the wastegate to blow open, limiting midrange torque. Bleed orifices (also known as "boost foolers") just make it worse. Only Banks solves this problem by replacing the boost actuator. BigHead holds the wastegate closed for quicker boost, then controls the opening to maintain peak boost for superior acceleration and mid-range pulling power.
Description
BigHead Wastegate Actuator Kit for use with 2001-2004 Chevy 6.6L. Power Now! When turbo exhaust backpressure increases, the stock actuator prematurely blows off the seat, softening boost in the midrange and killing torque. With twice the diaphragm area and spring pressure of the stock wastegate, Banks BigHead Wastegate Actuator keeps the valve seated longer and achieves a higher peak boost, sooner.
At peak, BigHead opens the wastegate and holds its position, for precise boost control that gives you crisp acceleration and more mid-range pulling power.
Quick, Controlled Boost
Produces massive torque right from idle
Doubles stock's diaphragm area and spring pressure
Keeps the valve seated longer achieving higher peak boost, sooner
Crisp acceleration and more mid-range pulling power
Fits LB7 engine
Emissions Compliant: Race Only
---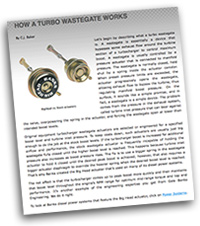 How a Turbo Wastegate Works: Let's begin by describing what a turbo wastegate is. A wastegate is essentially a device that bypasses some exhaust flow around the turbine section of a turbocharger to control maximum boost. A wastegate is usually controlled... <read more>
Details
24396

24396

801279243965

New
Categories
Wastegate/Diverter/Blow-Off|2001-2004 Chevy/GMC Duramax LB7|2004-2005 Chevy/GMC Duramax LLY|Chevy/GMC Performance Parts
Shipping Information
Item Requires Shipping
2.0 lbs.
W5.0000" x H8.0000" x L8.0000"
Free Shipping!
---
---