Home
-
Return to Previous Page
PowerPack Bundle for 2003-2007 Ford Class-C Motorhome 6.8L, E-S/D Super Duty
PowerPack® Bundle
for 2003-2007 Ford Class-C Motorhome 6.8L, E-S/D Super Duty
Gain +56 hp & +70 lb-ft, Up to 7% more MPG
Remove airflow restrictions with complete intake and exhaust system plus advanced programming for up to +56 hp and +70 lb-ft. Up to 7 Percent more MPG. Rockets you up 6 Percent grades 12 Percent faster. Chops three seconds off your 0-60 mph time. Chrome tip. Includes AutoMind.
50 State Compliant:
CARB E.O. D-161-76
Fits E-Super Duty
Description
Ultimate RV Power System
Here's a major dose of new RV power without the new RV price! PowerPack delivers 26% more horsepower and torque to your V-10: up to +56 hp and +70 lb-ft at the rear wheels. Rockets you up 6% grades 12% faster and chops three seconds off your 0-60 mph time. With PowerPack's engineered intake and exhaust upgrades plus calibrated fuel tuning (optional), your rig will pass and merge a whole lot easier and more safely, and you'll get up to 7% more MPG too!
Includes: AutoMind Programmer, Ram-Air Oiled Filter, Air Filter Service Kit, TorqueTube Exhaust Manifold System, Monster Exhaust System, Extension Pipe, Chrome Tailpipe, Heatshield, Banks Power Urocal, CARB Decal, Includes all necessary hardware.
Optimizes airflow, air density, continuous power & MPG
Chops three seconds off your 0-60 mph time
Honors the host vehicle & improves longevity
Rockets you up 6% grades 12% faster
Gain up to +56 hp and +70 lb-ft
Up to 7% more MPG
Includes AutoMind
CHROME tip
Emissions Compliant: D-161-76
---
---
Customer Reviews
2005 Ford V10 Class C Motorhome

2008-11-13

Extremely pleased with the Banks PowerPack System

I picked up my motorhome yesterday and my comment is: WOW, What a major improvement!

I am extremely pleased with the Banks PowerPack System. I will not hesitate to mention to my friends. Your guys did a great job and completed it ahead of schedule.

Thanks,

Walter K.
Westlake Village, CA
PowerPack on 2012 Class C motorhome

2014-11-07

Where do you show testimonials for your products. Here is mine. The difference between the standard exhaust system and the New Power Pack is simply amazing. I have a 2012 Class C motorhome with the Ford E450 V10. We live in Utah and have to go up hills/mountains to go anywhere, including home. Before installing the Banks Power Pack, the motor was running about 5500 rpms going up a hill at 60 mph by our house. After the installation, the motor started at 4200 and then dropped to 3600 rpms. The additional power was amazing. Before the installation the motor was at 2500 rpm while cruising at 65 mph on the freeway, now the motor is at 2000 rpms. We have not had a chance to check the mileage but that is only a small part of the purchase. I am sure that the motor will last longer now that it can breath. I no longer feel embarrassed going up hills at either slower speeds or with the motor screaming. It is extremely satisfying to pass slower vehicles while going uphill. I now have Banks products on three vehicles.

Thanks for all your hard work.

Kim W., Layton, UT
---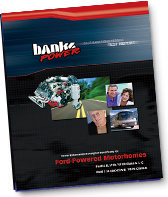 Here's the TEST REPORT for your vehicle!
View it right now online »
Details
49474

49474

801279494749

New
Categories
Power & Efficiency Systems|Ford Performance and Upgrades|RV Motorhome Performance Upgrades
Shipping Information
Item Requires Shipping
162.0 lbs.
W22.0000" x H15.0000" x L57.0000"
---