Home
-
Return to Previous Page
Monster Exhaust System, 3-inch Single Exit, Cerakote Black Tip for 2000-2006 Toyota Tundra 3.4L/4.0L/4.7L
Monster® Exhaust System3-inch Single Exit, Cerakote Black Tip
for 2000-2006 Toyota Tundra 3.4L/4.0L/4.7L
Cuts backpressure, Improves flow and Adds power
Cuts back pressure up to 76 Percent. Improves flow up to 114 Percent. Add up to 11 hp and 11 lb-ft. 3-inch mandrel-bent cat-back pipes with Straight-thru muffler and 4-inch Cerakote Black Tip.
CARB E.O. Not Required
Description
3 inch stainless mandrel-bent pipes and straight-thru muffler cut backpressure by 76 percent, improve flow by 114 percent, and add up to 11 hp and 11 lb-ft. Improves acceleration, too! throaty sound, 4 inch polished tip. Tundra Pickup: Monster exhaust system's 3 inch mandrel-bent pipes are formed of stainless, heavy-wall tubing, slashing backpressure by 76 percent. Banks free-flowing, straight-through polished-stainless Monster muffler has very-high-temperature packing, and is sound-tested to deliver a rich, throaty sound without the annoying drone. The system more than doubles the stock flow, increasing it by 114 percent. As a result, the Tundra engine is able to produce up to 11 more hp and 11 more lb-ft of torque, which means better acceleration. Reducing backpressure and enhancing the exhaust flow increase fuel efficiency, as well. For an eye-catching finish, Monster flashes a stainless 4 inch dual-wall rolled-edge angle-cut tailpipe tip in your choice of polished chrome-over stainless or high-temp Cerakote black! Banks Monster exhaust system is vehicle-specific for bolt-on installation. Includes: Polished-stainless 3 inch straight-through Monster muffler, Stainless 3 inch constant-diameter intermediate pipe and tailpipe, Polished-stainless 4 inch dual-wall angle-cut tailpipe tip with rolled edge, Mounting hardware.
Monster Exhaust System, Single Exit, Cerakote Black Tip for use with 2000-2006 Toyota 3.4L, 4.0L, 4.7L Tundra
3 inch mandrel bent Stainless Steel construction
Dramatically improves flow up to 114%
Cuts backpressure up to 76%
Add up to 11 hp and 11 lb-ft
Lowers exhaust gas temps
4 inch Cerakote Black Tip
Straight-thru muffler
Maximum Airflow
Emissions Compliant: E.O. Not Required
---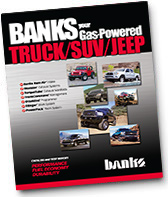 Here's the TEST REPORT for your vehicle!
View it right now online »
Details
48130-B

48130-B

801279881303

New
Categories
Exhaust Systems|2000-2006 Toyota Tundra 3.4/4.0/4.7L|Performance Parts for Toyota
Shipping Information
Item Requires Shipping
40.0 lbs.
W12.5000" x H22.0000" x L36.0000"
---