Home
-
Return to Previous Page
Intercooler Upgrade, Includes Boost Tubes (red powder-coated) for 1999.5-2003 Ford F250/F350 7.3L Power Stroke
Intercooler UpgradeIncludes Boost Tubes (red powder-coated)
for 1999.5-2003 Ford F250/F350 7.3L Power Stroke
Improves Power, Durability & Fuel Economy
3-inch mandrel-bent high flow boost tubes. Eliminates restrictions for an 18% increase in flow, dramatically increasing the cooling capacity for massive continuous power; big aluminum end tanks won't burst like the plastic stock ones.
50 State Compliant:
CARB E.O. D-161-82
Fits Trucks Built In or after 1999
Description
Banks Techni-Cooler Intercooler system includes mandrel-bent 3" high-flow boost tubes ... large, high-efficiency all-aluminum end tanks instead of the wimpy stock plastic ones that can rupture under high-boost conditions ... a high-flow inlet that distributes air evenly across the intercooler for an 18% increase in flow and more effective cooling ... a wide-open outlet ... and a thicker core area with impressive volume.
Techni-Cooler provides the maximum reduction in boost air temperature with a minimal loss of boost pressure. Cooling the air makes it denser and more oxygen rich, improving combustion and engine efficiency. Result: higher continuous power and more power at any exhaust gas temp (EGT), better fuel economy and lower EGTs. What could be cooler than that? Mounting hardware included.
Wide-open inlet and outlet provides 18% increase in flow
High-efficiency custom-machined durable cast end tanks
Cooler EGTs, more MPG & constant-duty power
Improves Power, Durability & Fuel Economy
Mandrel-bent 3 inch high-flow boost tubes
Aluminum end tanks won't burst like stock
Thicker core area with impressive volume
Packs cool, dense air into the cylinders
Dramatically increases air density
Reduces boost pressure loss
Twin-Ram flows air equally
Lowers exhaust gas temps
Maximizes Boost Air
2-year Warranty
Emissions Compliant: D-161-82
---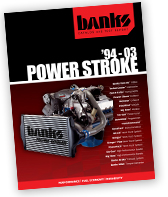 Here's the TEST REPORT for your vehicle!
View it right now online »
Details
25973

25973

801279259737

New
Categories
Intercooler Systems|1999-2003 Ford 7.3L Power Stroke|Ford Performance and Upgrades
Shipping Information
Item Requires Shipping
63.0 lbs.
W15.0000" x H21.0000" x L43.0000"
Free Shipping!
---