Home
-
Return to Previous Page
PowerPack Bundle, with AutoMind Chip, Chrome tip for 1999-2004 Ford F250/F350 6.8L, EGR-equipped Early-style Catalytic Converter
PowerPack® Bundlewith AutoMind® Chip, Chrome tip
for 1999-2004 Ford F250/F350 6.8L, EGR-equipped Early-style Catalytic Converter
Gain +56 hp & +67 lb-ft, 7% more miles per fill-up
Best gains: +56 hp and +67 lb-ft (rear wheel), 7 Percent more miles per fill-up. Chrome tip.
US Patent #8,468,812 B1
50 State Compliant:
CARB E.O. D-161-76
Fits Models with EGR and Early style catalytic converter Inlet flange is behind transmission cross-member
Description
The Ultimate Power System for Towing & Work
1999-2004 6.8L SUPER-DUTY PICKUP: Banks has the formula for building V-10 muscle: the stainless-steel PowerPack adds best gains of +56 hp , +67 lb-ft torque, and 7% more miles to the tank-full. A pair of bulletproof TorqueTube manifolds uncorks major torque for big hauling and climbing jobs. Banks optional electronic AutoMind engine-calibration module maximizes power while keeping a stern check on the air-to-fuel ratio, for safe exhaust temperatures and engine longevity.
Includes: Ram-Air Intake System, Ram-Air Oiled Filter, Air Filter Service Kit, TorqueTube Exhaust Manifold System, Monster Exhaust System, Extension Pipe, Chrome Tailpipe, Heatshield, Banks Power Urocal, CARB Decal, Includes all necessary hardware.
Optimizes airflow, air density, continuous power & MPG
Honors the host vehicle & improves longevity
Best gains: +56 hp and +67 lb-ft (rear wheel)
7% more miles per fill-up
CHROME tip
Emissions Compliant: D-161-76
US Patent #8,468,812 B1
---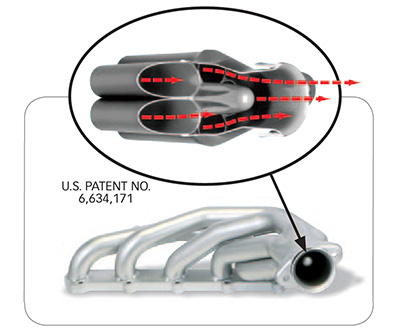 PowerPickle®
Banks invented a ballistic flow device to overcome the problem that occurs where tubes join within a single collector; a "dead zone" that kills exhaust-gas velocity. The patented PowerPickle fills that void and utilizes the rotational firing order to maximize exhaust extraction. This detail-exclusive to Banks-captures exhaust-gas action and turns it into massive torque.
---
A look at the stock Y-pipe clearly shows the Banks advantage: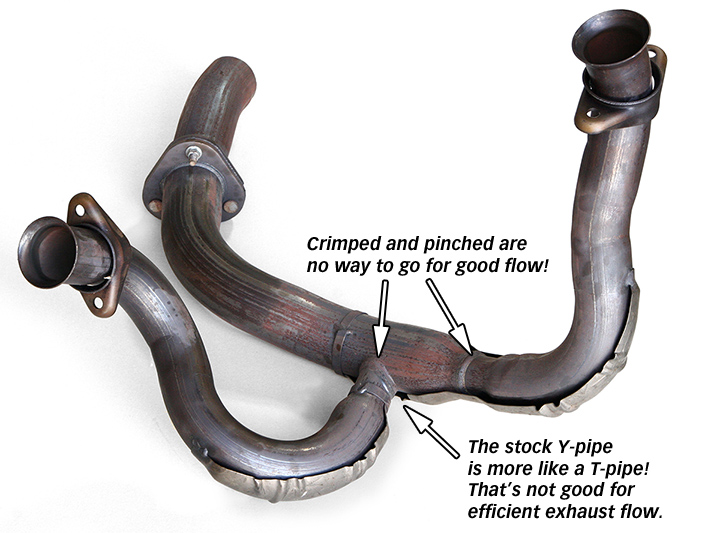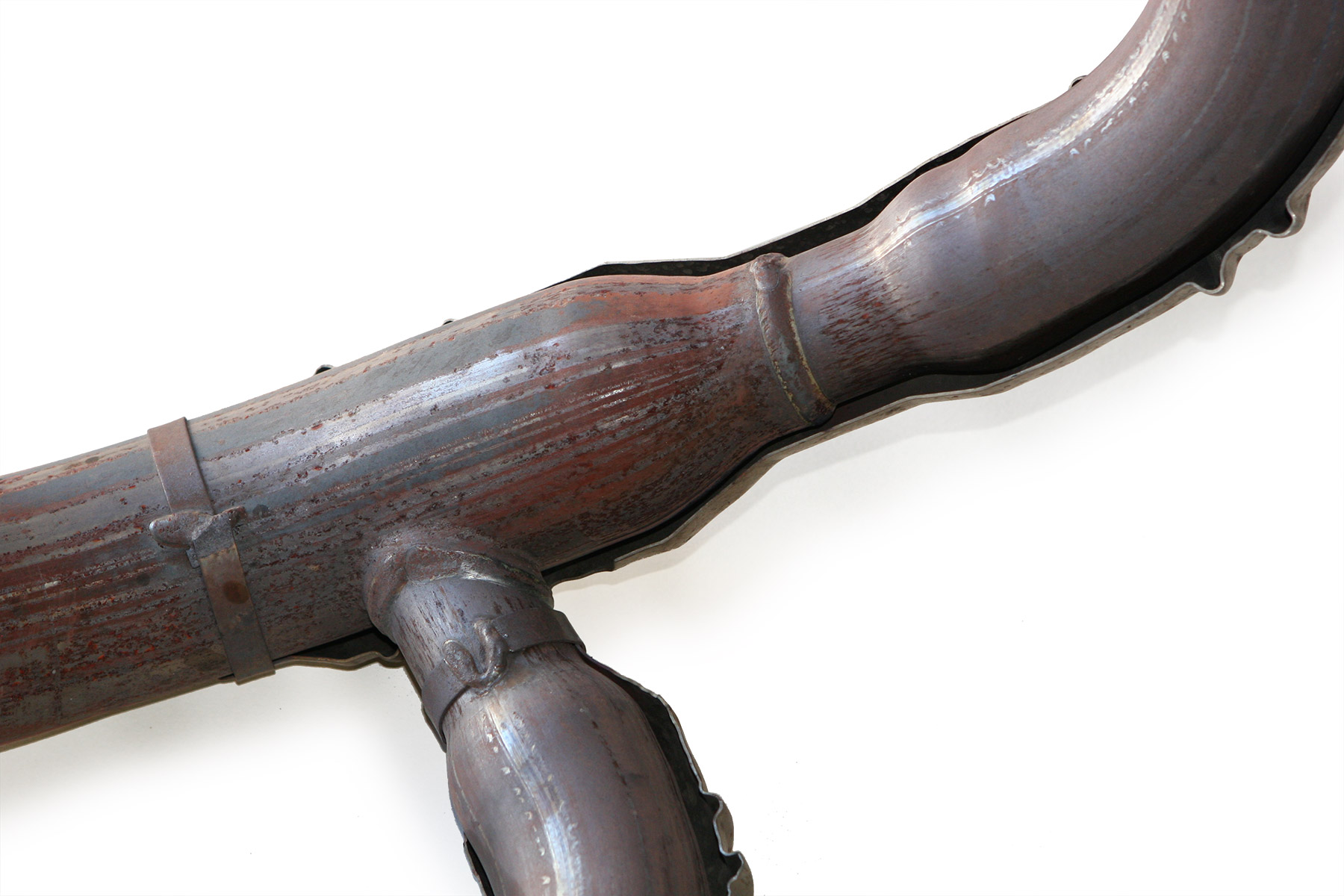 ---
Vehicle is EGR-equipped ('99 models only) if there is a large hex fitting connecting steel tube to exhaust manifold on driver's side.
To identify type of catalytic converter , locate flange between Y-pipe and cat converter:
Early style cat converter --flange behind transmission cross-member
Late style cat converter --flange in front of transmission cross-member
Systems do not fit 2005 (3-valve) vehicles --designated by a "V" in the 8th position of the VIN number.
---
Testing
Gasoline: 6.8L (V-10), '99-05
Test vehicle: 1999 Ford F-350 crew cab dually • 6.8L Triton V-10 • 4R100 4-speed automatic • 4.10 rear axle ratio • 7500 lbs solo weight • 20,000 lbs combined towing weight.
Horsepower and torque measured at rear wheels.
| PowerPack® System with AutoMind | Stock | Banks | Improvement | Results |
| --- | --- | --- | --- | --- |
| Horsepower, best gain | 192.7 hp (4400 rpm) | 248.6 hp (4400 rpm) | +55.9 horsepower | 29% more (4400 rpm) |
| Horsepower, peak-to-peak | 197.0 hp (4200 rpm) | 248.6 hp (4400 rpm) | +51.6 horsepower | 26.2% more, peak-to-peak |
| Torque, best gain | 230.0 hp (4400 rpm) | 296.7 hp (4400 rpm) | +66.7 lb-ft. torque | 29% more (4400 rpm) |
| Torque, peak to peak | 270.7 lb-ft (2600 rpm) | 323.2 lb-ft (2600 rpm) | +52.5 lb-ft torque | 19.4% more (2600 rpm) |
| Horsepower, upshift point | 180.0 hp (4800 rpm) | 233.0 hp (4800 rpm) | +53.0 horsepower | 29.4% more (4800 rpm) |
| Torque, downshift point | 269.5 lb-ft (2800 rpm) | 322.2 lb-ft (2800 rpm) | +52.7 lb-ft torque | 19.6% more (2800 rpm) |
| Solo acceleration, 0-60 mph time | 10.38 sec | 8.50 sec | -1.88 sec | 18.1% quicker |
| Solo acceleration, 40-60 mph time | 5.60 sec | 4.45 sec | -1.15 sec | 20.5% quicker |
| Towing acceleration, 0-60 mph time | 26.74 sec | 21.47 sec | -5.27 sec | 19.7% quicker |
| Towing acceleration, 40-60 mph time | 15.14 sec | 11.76 sec | -3.38 sec | 22.3% quicker |
| Fuel economy, towing | 7.20 mpg | 7.73 mpg | +0.53 mpg | 7.4% better fuel economy |
| Hill-climb maximum speed, (towing) | 49 mph (2nd gear) | 56 mph (3rd gear) | +7 mph | 14.3% faster (+1 gear) |
| PowerPack System | Stock | Banks | Improvement | Results |
| --- | --- | --- | --- | --- |
| Horsepower, best gain | 192.7 hp (4400 rpm) | 241.9 hp (4400 rpm) | +49.2 horsepower | 25.5% more (4400 rpm) |
| Horsepower, peak-to-peak | 197.0 hp (4200 rpm) | 241.9 hp (4400 rpm) | +44.9 horsepower | 22.8% more, peak-to-peak |
| Torque, best gain | 230.0 hp (4400 rpm) | 288.7 hp (4400 rpm) | +58.7 lb-ft torque | 25.5% more (4400 rpm) |
| Torque, peak to peak | 270.7 lb-ft (2600 rpm) | 310.7 lb-ft (2600 rpm) | +40.0 lb-ft torque | 14.8% more (2600 rpm) |
| Horsepower, upshift point | 180.0 hp (4800 rpm) | 223.0 hp (4800 rpm) | +43.0 horsepower | 23.9% more (4800 rpm) |
| Torque, downshift point | 269.5 lb-ft (2800 rpm) | 309.9 lb-ft (2800 rpm) | +40.3 lb-ft torque | 15% more (2800 rpm) |
| Solo acceleration, 0-60 mph time | 10.38 sec | 8.79 sec | -1.59 sec | 15.3% quicker |
| Solo acceleration, 40-60 mph time | 5.60 sec | 4.63 sec | -0.97 sec | 17.3% quicker |
| Towing acceleration, 0-60 mph time | 26.74 sec | 22.28 sec | -4.46 sec | 16.7% quicker |
| Towing acceleration, 40-60 mph distance | 15.14 ft | 12.28 ft | -2.86 ft | 18.9% less distance |
| Fuel economy, towing | 7.20 mpg | 7.65 mpg | +0.45 mpg | 6.3% better fuel economy |
| Hill-climb maximum speed, (towing) | 49 mph (2nd gear) | 55 mph (3rd gear) | +6 mph | 12.2% faster (+1 gear) |
---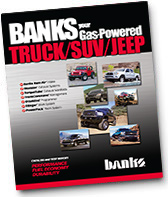 Here's the TEST REPORT for your vehicle!
View it right now online »
Details
49440

49440

801279494404

New
Categories
Power & Efficiency Systems|1999-2010 Ford 6.8L|Ford Performance and Upgrades
Shipping Information
Item Requires Shipping
122.0 lbs.
W21.0000" x H13.0000" x L65.0000"
---