Home
-
Return to Previous Page
Six-Gun Diesel Tuner, with Banks iDash DataMonster for 2001-2004 Chevy/GMC 2500/3500 6.6L Duramax
Six-Gun Diesel Tunerwith Banks iDash® DataMonster
for 2001-2004 Chevy/GMC 2500/3500 6.6L Duramax
Gain +127hp/+345lb-ft, 0-60 mph 28% quicker
Six-Gun delivers pavement-shredding power. Has 6 change-on-the-fly power levels and is Stacked for Power. Enhanced vehicle monitoring and data-logging with iDash DataMonster. Comes standard with exclusive AutoRate® and ActiveSafety® engine and transmission safeguards.
US Patent # 7,593,808 & # 7,254,477
50 State Compliant:
CARB E.O. D-161-93
Description
Tuning that doesn't kill the host vehicle.
Many tuners reduce fuel delivery as exhaust gas temps rise. But they ignore the powertrain! Banks finds the limits of the engine and powertrain, then adds mission-critical ActiveSafety® and AutoRate® safeguards to Six-Gun so it won't exceed those limits. Has 6 change-on-the-fly power levels. Is Stacked for Power to tune timing and fuel pressure. As a result, Six-Gun thrashes challengers, not your truck!
Proof of a higher power.
Calibrated for sport applications, Six-Gun is a performance junkie that adds +127 hp/+345 lb-ft. With its comprehensive CleanTune® Technology and change-on-the-fly power, Six-Gun rockets you from 0-60 mph 28% quicker and in 31% less distance than stock ... without adding black smoke!
Banks iDash® 1.8 DataMonster® is packed full of awesome! Use it for total control of your Six-Gun Tuner. Achieve best gains with a touch of your finger. Set and monitor EGT, coolant temps and a vast array of other engine parameters. Data-log up to 100 parameters and review on your iDash DataMonster or export to view on your computer. With enhanced vehicle monitoring and diagnostic Read/Clear capabilities, you will wonder how you lived without the iDash DataMonster your whole life!
Engine differences in 2004 vehicles: Early 2004 vehicles - LB7 engine (8th VIN digit - 1). Late 2004 vehicles - LLY engine (8th VIN digit - 2).
Gain up to +127 hp/+345lb-ft at rear wheels
Enhanced vehicle monitoring wit DataMonster
Destroys the competition, not your vehicle!
ActiveSafety protects engine/powertrain
Diagnostic capability, Read/Clear codes
6 change-on-the-fly power levels
Data-log up to 100 parameters
0-60 mph in 1/3 less distance!
Loaded with Features
Value Priced
Easy Install
Emissions Compliant: D-161-93
US Patent # 7,593,808 & # 7,254,477
---
Test Results
Chevy/GMC Truck Power
Turbo-diesel: 6.6L Duramax LB7, '01-04
Test vehicle: 2001 Chevy 3500HD, Extended Cab, Long Bed
Engine: 6.6L Duramax LB7
Transmission: Allison Series 1000 5-speed automatic
Six-Gun, Level 6
Stock
Banks
Improvement
Results
Horsepower: Best gain
163 hp
@2000 rpm
290 hp
@2000 rpm
+127 hp
78% more
Torque: Best gain
458 lb-ft
@1800 rpm
803 lb-ft
@1800 rpm
+345 lb-ft
75% more
Horsepower: Peak-to-peak
252 hp
@3000 rpm
322 hp
@3000 rpm
+70 hp
28% more
Torque: Peak-to-peak
458 lb-ft
@1800 rpm
803 lb-ft
@1800 rpm
+345 lb-ft
75% more
Horsepower: Upshift point (automatics)
249 hp
@3200 rpm
322 hp
@3200 rpm
+73 hp
29% more
Torque: Downshift point (automatics)
459 lb-ft
@2300 rpm
712 lb-ft
@2300 rpm
+253 lb-ft
55% more
1/8 mile: Elapsed time
11.81 sec.
10.46 sec.
-1.35 sec.
11% quicker
1/8 mile: Trap speed
65.40 mph
74.86 mph
9.46 mph
14% faster
1/4 mile: Elapsed time
17.89 sec.
16.00 sec.
-1.89 sec.
11% quicker
1/4 mile: Trap speed
80.48 mph
87.57 mph
7.09 mph
9% faster
1/4 mile: Truck lengths over stock (Length = 20')
—
—
11.00 TL
—
0-60 mph: Elapsed time
10.18 sec.
7.36 sec.
-2.82 sec.
28% quicker
0-60 mph: Distance
509.1 ft.
349.1 ft.
-159.9 ft.
31% shorter
All gains measured at the rear wheels, with recommended airflow improvements.
Upgradeable options include Banks iDash DataMonster and airflow components to build a complete engineered power system.
For best Six-Gun Tuner performance, Banks always recommends airflow improvements.
---
REVIEWS
LB7: Monster Exhaust, Ram-Air, Six-Gun Tuner, Big Head

2010-10-04

Frank, I just wanted you to know that once again, I received my order in great time and packaged very well! Your S&R Dept do very good work and I commend them for this.

I know you must speak to a lot of people every work day and you may not remember but, I told you in the past that I wasn't very mechanically inclined but I do like to change my own oil and easy tasks like that.

Well, the instructions that came with all my parts were so well detailed that after reading over all of this, I thought to myself: I think I can do this!
I gathered all my tools and began. I'm so excited I can't hardly believe it! I've got it all hooked up! YES!!!!
I received it all on a Friday ( Good shipping to S. Louisiana in 5 days! Pretty cool.
Saturday morning I began. Now you've got to realize, I'm kinda slow, not too sure of myself, had to go back over papers and read carefully,
trying to prevent any mistakes. You know the drill, pulled right front wheel, drilled & tapped exhaust manifold for EGT probe.
Went to work on Big-Head Actuator. Wrapped that up and tackled Six Gun Tuner. Feeling pretty good, Frank!
Once I got the iDash mounted and wired, I thought, well, I'm going to re-attach battery cables, say a prayer & awaken the beast!

I might be sleeping in the shed but, I'm a happy camper!

Thank you!

A satisfied customer and your pal

Best Regards:

Doug P.
Broussard, LA
LB7 Six-Gun: Smoke 'em Out, Daddy!

2005-05-27

Ted of Williamsville, New York, installed a Six-Gun Diesel Tuner on an '01-04 Duramax LB7 4X4 crewcab with a 6.6L turbo-diesel

Wow—awesome power!! I love this system--and so do my 2 young boys (ages 5 and 8)--"Give it some boost, daddy!"; "Smoke 'em out, daddy!" This system is making other vehicles on the road look like four cylinders!! I took it to my local racetrack (unfortunately, only 1/8th mile), but seemed to embarrass a Mustang GT that I was up against. Turned a 9.7 flat on the track--darn good for a 6,000 lb diesel pickup 4x4 crewcab with stock tires!! No laughing after I did my race! Thanks for making a killer product!!
LB7 tuner & exhaust: Way More Fun Than Any Muscle Car I've Owned...

2005-04-15

I pull a 12,000 pound construction trailer with my GMC 6.6 D/A 2500HD. I have installed the Six-Gun, Speed-Loader, and [Monster] Exhaust. WOW!! I recently towed 2,200 miles from Florida to Indiana and back. Mileage is way up. Exhaust temp is way down and the torque is Unbelievable. Without the trailer and just with a little spool up on the brakes at a red light, this thing will smoke just about any production street car. This is way more fun that any muscle car I have ever owned over the last 35 years. Thanks for your great products.

Steve
Sarasota, FL
LB7 tuner & exhaust: Even the Other "Chipped" Diesels Could Not Keep Up!

2005-02-07

I bought my new K2500 Crew Cab because I had just out-grown my old 1/2 ton. My business had expanded so much that my old truck was getting tired. I have always been a GM man and was getting so tired of the "Power choke" and "Wait, I'm Cummins" boys bash the Duramax. I started to look at diesel "hop-up" products. I went with Banks because you are known for your milestone diesel enhancements with over all concern for safety and dependability. After the install I was shocked with the results that were achieved. I went out to show off my new toys, and found that even the other "chipped" diesels could not keep up! I wear my Banks stickers with pride because all the other guys are spending more money on other companies' products trying to catch me (us). I wish they would only listen and call BANKS!

Jim
West Columbia, TX
LB7 Six-Gun: Six-Gun Whoops All Those Other Chips and Takes Care of My Truck

2005-12-30

Jamie of Brownstown, Michigan, installed a Six-Gun Diesel Tuner, Speed-Loader and a Monster exhaust on a Duramax LB7 with a 6.6L turbo-diesel

I've had my truck now for about 5 years. The day I picked it up from the dealer I dropped it of at the custom shop. It's been through 3 lift kit changes and 4 different tire and wheel packages. I'm real picky on the stuff I like and until the last lift and rims and tires were on, I wasn't happy. Now all I had to do was drop in a Monster exhaust, an intake and a bad azz chip but no one had a chip that was worth the money for the problems they were handing out. I like Banks products and love the R/D they put into them, so it was only a matter of time to see that they once again came out with another awesome product for us to utilize.

So I waited till the time was right and ordered my Six-Gun Tuner and Speed-Loader. Now I have had previous chips and stacked computers but pump the brakes on that $#@%. This new product you guys have out now is intense. It's a great combo and it's a great feeling knowing that that little anodized aluminum box is under that dash taking care of me, whooping all those other (step children) chips as well as taking care of my truck. I have a few friends that have dumped a lot of money into their trucks but as I pass them up, I don't let them know I have barely any money into mine. I just let them keep purchasing their catch-up kits.

It's a good feeling guys. Thanks for being #1 like you are. Take care and hope to see more stuff soon.
LB7 Six-Gun: I Call Her Cuda Because She Eats Everything Up In Her Path

2005-03-17

Heather of Surrey, British Columbia, Canada, installed a Six-Gun and a Speed-Loader on an '02 GMC Crew Cab Duramax 6.6L turbo-diesel

I've been a GM girl all my life & get razzed a lot by my forever FoundOnRoadDead (FORD) friends. Early last year I was finally able to obtain the truck of trucks: an '02 GMC Crew Cab short box 6.6L turbo diesel. I call her Cuda because she just eats everything up in her path. To date we have beaten three 5L mustangs, one Harley Davidson edition and any other diesel who dares to try keep pace. We also got a mention on the Fun In BC's 4x4 club site for being the truck that made it furthest up the snowy mountain. When others made fun of my truck for being too large, I just sat back and asked if they wanted a tow up to where I was or just admit that my truck was king for the day. No matter if it's out in the bush or playin' in the mud, cruising the streets or towing (anything), Banks gives that extra edge separating the girls from the boys with baby toys ? yet remaining the quiet diesel I take so much pride in. I'm seriously considering taking up racing at our local track because I just can't get enough of the vast improvements the Banks products have made to my baby. In fact, I went by Sport Trucks Unlimited where I purchased my Banks products to inquire about the Monster exhaust package and the boys told me they have done about 6 more Banks installations since my truck because people liked what they saw. Thanks Banks for making every drive a memorable experience.
LB7 Six-Gun: The Proof is in the Pulling

2005-01-19

Andy of Ceres, California, installed a Six-Gun Diesel Tuner and a Speed-Loader on an '01-04 6.6L Duramax LB7 turbo-diesel

Let me tell you...you are the bomb! And that's a good thing. I tried some of the others we won't name, but they didn't make me as 'HYPER' as yours. I've got nothing but good to say about BANKS, and I don't have to brag—the proof is in the pulling. You can't believe what torque can do!

I'm a farmer and you know we always pull more than we should. This sucker I think has more power when you hook up the trailer. I love it. Thanx!
---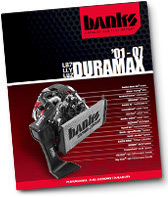 Here's the TEST REPORT for your vehicle!
View it right now online »
Details
61440

61440

801279637290

New
Categories
Performance Tuners|2001-2004 Chevy/GMC Duramax LB7|2004-2005 Chevy/GMC Duramax LLY|Chevy/GMC Performance Parts
Shipping Information
Item Requires Shipping
4.0 lbs.
W8.0000" x H6.5000" x L14.0000"
Free Shipping!
---