Home
-
Return to Previous Page
Derringer Tuner, with iDash SuperGauge for 2017-2019 Chevy/GMC 2500 HD 6.6L Duramax, L5P
Derringer Tunerwith iDash® SuperGauge
for 2017-2019 Chevy/GMC 2500 HD 6.6L Duramax, L5P
Adds up to 61 hp and 112 lb-ft
6 power levels adjustable on-the-fly. Interfaces with OBD-II (On-Board Diagnostics) to communicate with the vehicle's ECM. AutoRate uses vehicle data to adjust tune in real-time. ActiveSafety protects engine/powertrain. TransCommand protects transmission. Monitor engine and trans functions and control Derringer with iDash SuperGauge. iDash displays data your dashboard doesn't.
US Patent # 7,593,808 & # 7,254,477
50 State Compliant:
CARB E.O. D-161-120
Note: When running multiple iDash together, purchase 1 Primary and 2-3 Expansion gauges.
Description
Results in torque and power gains across the full operating rpm range, starting right off idle and marching to the shift point in each gear. Derringer is dyno calibrated to use multiple data inputs such as throttle position, rpm, vehicle speed, AFR, knock, coolant temperature, and EGT, just like your engine's ECM. It actively and safely optimizes calibrations in real-time thanks to its OBD-II connectivity. No competitive product does that.
Derringer has 6 levels, adjustable on-the-fly using the iDash. Level 6 produces best-in-class performance. Level 3 is designed for work use and has a great mid-range feel. When running Level 3 with a loaded truck and/or pulling a trailer, your on-ramp merging speeds and passing times are greatly improved.
The electronics are enclosed in a compact housing which is easily concealed and communicates using B-Bus (Banks Bus) with other devices such as our iDash DataMonster® or iDash® 1.8 SuperGauge. The Derringer connects in line with your truck's engine sensors. But unlike other tuners, it also connects to the vehicle's OBD-II diagnostic bus.
ActiveSafety health monitoring circuitry: We monitor the health of Derringer 100 times a second. If the health monitoring system reveals any malfunction, the Derringer instantly bypasses itself, sets a device diagnostic code, and returns you to stock power. Plus, Derringer's special coolant temp monitoring prevents power addition when the engine is too cold or overheated. The Derringer also auto-adjusts power if knock occurs due to bad fuel. Maximum safe power is all automatic with a Derringer - you just choose your preferred power level.
Banks Derringer Tuner with ActiveSafety, includes iDash SuperGauge for use with 2017-19 Chevy/GMC 2500/3500 6.6L L5P
Adds up to 61 hp and 112 lb-ft
6 power levels that can be changed on-the-fly via iDash. Each level adds approximately 12 horsepower
Simple plug-and-play installation with easy removal for dealer service
Interfaces with OBD-II Port (On-Board Diagnostics) to communicate with vehicle's ECM
Warranty friendly: no reflash required and no traces left in ECM
Works while in cruise-control
AutoRate tunes in realtime using vehicle diagnostics
ActiveSafety protects engine/powertrain
Transcommand protects transmission
iDash displays dozens of temps, pressures, speeds, and info your dashboard doesn't
iDash displays 5 customizable pages of 2-8 gauges per page
DPF regen status, DEF level, displayed
iDash logs up to 20 min/max values with customizable alerts
Real-time bar graph displays Derringer's added power
Update Derringer firmware, calibration through iDash using microSD card
Emissions Compliant: D-161-120
US Patent # 7,593,808 & # 7,254,477
---
Banks vs. the competition
The Derringer L5P tuner is the only option you should be plugging into your truck. The other guys claim big numbers but simply don't deliver! We tested every other tuner on the same dyno, same day, same weather conditions, and with the same technician. There's only so much you can do by just intercepting the fuel rail pressure sensor. That's where all the others fall short. The Derringer is the only tuner that actually utilizes your truck's ECM to make intelligent calculations. Hundreds of man-hours went into Derringer's development and the results are nothing short of impressive.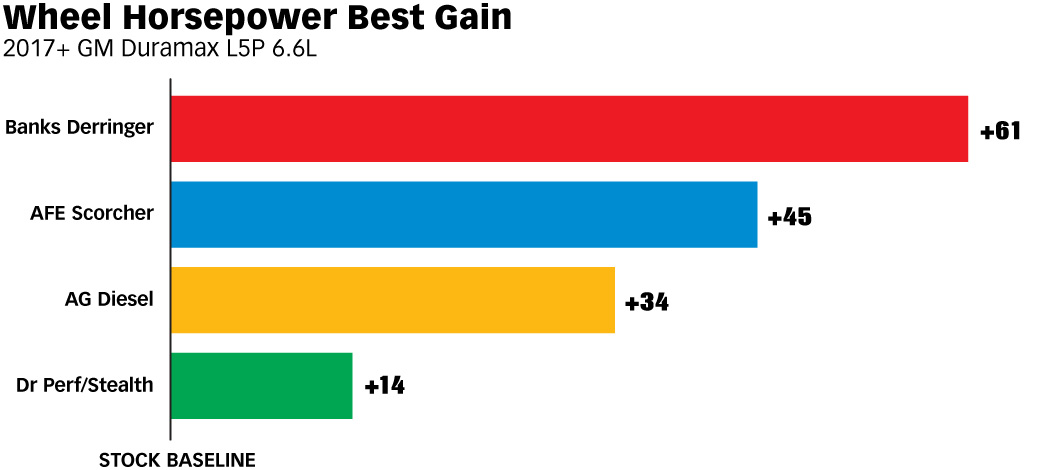 NOTE: Dr. Performance and Stealth both use the same box.
Test Vehicle: 2017 Chevrolet Silverado 3500 Dually 6.6L Duramax L5P. Factory intake and exhaust. All tests run on the same truck, same day, same conditions. Tested on Mustang DYNO, 10-second sweep.
How the Derringer does what it does, and why.
There's no easy way to make more power your daily driven L5P with GM's ECM and factory turbo, no magic flash or special "chip" available. We had to go the tuner route, and making an inline tuner for your truck was no easy task. We have almost a thousand man-hours into Derringer development. Fortunately, we've been making tuners for 20 years, so we know what we're doing.
The Derringer is a plug-and-play microcomputer designed for easy installation, it's enclosed in a compact housing which is easily concealed, and connects to the iDash SuperGauge for the ultimate in information and power selection, unlocking three additional power levels.
AutoRate®
Unlike the fixed tuning used by others, the Derringer calibration is continuously adjusting to provide you the peak possible performance under every driving condition. By utilizing the power of the OBD-II data, the tuner intelligently fine-tunes its calibration on the fly without you having to change its power level.
Exhaust Gas Temperature (EGT) – The Derringer senses your engine's EGT and intelligently modulates fueling to maintain a safe maximum EGT, protecting your turbo and engine.
Altitude compensation – The Derringer senses ambient air pressure, controlling the turbocharger to maintain added boost and power as altitude increases.
Diesel Particulate Filter (DPF) Regen – The Derringer tuner constantly monitors your DPF regen status and will optimize its calibration to ensure the DPF regen process completes successfully.
Accelerator Pedal Monitoring – The Derringer senses accelerator pedal position to roll in additional power progressively, optimizing part-throttle fuel economy and giving max power when you ask for it.
Coolant Temperature Monitoring – The Derringer senses coolant temp to control added power. During warmup, no power is added below 120° F, then power is ramped in and fully available above 150° If the coolant overheats for any reason, the Derringer starts removing its power at 230° F, and additional power is totally removed if you exceed 240° F.
Full Power Timer – If set on Sport level, the Derringer allows for 30 seconds of wide-open throttle before transitioning to the recommended power level for sustained tow/haul. (Our research has shown that the stock L5P when at full power will hit 1450° EGT and after a minute or so will pull out fuel to cool things down. So, we do the same thing.)
TransCommand® Active Transmission Safety System
In addition to AutoRate Adaptive Tuning, the Derringer utilizes key engine and transmission parameters to enhance shift performance and improve the longevity of your transmission. Because the competitors lack the essential OBD-II data, they always add power at wide-open throttle—no matter what! This can cause excessive transmission slip, torque converter clutch slip, and even 170 HP engine derates in order for the transmission to complete the shift. This harms the overall performance and degrades your transmission. The Derringer is meticulously calibrated and extensively tested to properly modulate power during shifting, optimizing performance and safety.
Intelligent Shift Tuning – The transmission shift request signal is monitored to optimize the power level prior to the shift protecting the transmission, increasing shift speed, and avoiding ECM power derates.
Boost and Fuel by Gear – Gear based calibration allows for optimum traction and performance
Torque Converter Clutch Slip Monitoring – The Derringer adjusts to modulate TCC slip to safe levels.
Transmission Slip Monitoring – The Derringer adjusts calibration to modulate transmission slip to safe levels
ActiveSafety®
The Derringer is the only tuner on the market to include 'Active Safety', an active failsafe system that utilizes bypass relays to smoothly transition your vehicle to stock power levels in the event of any trouble signs in the Derringer. The system constantly monitors various parameters at over 50 times a second to ensure that everything is operating as it should. If any competitive tuners lose power or fail in any way, they will instantly trigger a "limp home" mode where all power is lost and the vehicle dangerously slows to a crawl. If the same fault condition occurs to the Derringer it will gracefully remove its additional power and return to stock power levels without a hitch.
Health Monitoring: Internal self-diagnostics checks the health of the system 100 times per second
Monitors MAP and FRP signals for out of range condition (disconnected or short circuit)
Active safety engages if 12-volt power is lost to the Derringer tuner
Additional Features
Simple plug and play installation with easy removal for dealer service
Warranty friendly: no reflash required and no traces left in ECM
3 power levels with on the fly level changing (with switch)
Enclosed in a compact housing which is easily concealed
LED Derringer status indicator
CARB EO D-161-120
Additional Features with iDash DataMonster or SuperGauge
6 power levels with on the fly level changing using iDash
Optimized Derringer layout to view vital data
Regen status displayed over power level when Regen is active
Power added bar graph shows Derringer power being added
On-screen Derringer Status Indicator
Datalog up to 100 Derringer, engine, or transmission parameters through microSD card
Corrects MAP and FRP parameter to accurate readings
Update Derringer software and calibration through iDash using microSD card
Expand the system with other Banks Bus products

Ambient Air Density Module
4-CH Analog Sensor Module*
4-CH Thermocouple Module*
Advanced Water-Methanol Module*
More coming soon
Stock L5P Turbo Limits
The factory turbo is done at 505 flywheel hp, that's a gain of 60 horsepower. Above that point, the turbine drive pressure increases dramatically as does EGT and no more boost is available to safely add horsepower. Anyone who claims to deliver more doesn't understand this engine.
Derringer connects to your OBD-II port. It sees the whole picture.
After thousands of man-hours on the dyno and crunching data in the engineering office, we had the best gains – 61 hp and 112 lb-ft of torque.
Derringer delivers 505 hp and 1001 ft-lb of torque! 60 hp and 91 ft-lb of torque at the flywheel over stock!
The Derringer L5P is the most sophisticated inline tuner available. We hope you have as much fun driving with it as we did making it.
FAQ
Details
66692

66692
801279666924
New
Shipping Information
Item Requires Shipping
3.0 lbs.
W6.0000" x H6.0000" x L10.0000"
Free Shipping!
---
---