Home
-
Return to Previous Page
, Derringer, DataMonster, PedalMonster Combo for 2017-2019 Chevy/GMC 2500/3500 6.6L Duramax, L5P
Derringer, DataMonster, PedalMonster® Combo
for 2017-2019 Chevy/GMC 2500/3500 6.6L Duramax, L5P
Add 61hp, 112-lb-ft, and instant throttle response
Gain an extra 61 horsepower, 112 lb-ft of torque, and dramatically transform your truck's throttle feel and experience, all in a single go. The Banks Derringer, PedalMonster, DataMonster combo bundles our three most popular electronic performance enhancers in one complete package. Linked together through OBDII and BanksBus, all three are designed to work together safely and effectively while giving you the control you want at your fingertips.
What will iDash display?
2017-19 Chevrolet/GMC 2500/3500 6.6L
Description
---
The Ultimate Power Combo
The Banks Derringer, PedalMonster, and DataMonster combo brings instant power and throttle response gains all at the touch of a button. Designed to work together as a system, you'll be blown away with the unlocked performance and throttle feel this combo provides!
Adds up to 61 horsepower and 112 lb-ft
Strong acceleration and passing power
CleanTuned to keep soot at OEM limit
TransCommand protects transmission
6 on-the-fly adjustable power levels
ActiveSaftey protects engine
AutoRate Dynamic Tuning
3 Drive Modes, with 10 sensitivity levels
No more dead pedal and turbo lag feel
Improved throttle reaction time
Controlled via App or iDash
Adjustable Low-Speed Trim
Safe 12V OBDII power
Reverse Safety
Customizable colors and screen layouts
Controls Derringer and PedalMonster
Display performance and sensor data
Read and Clear Check Engine Codes
Datalog up to 100 parameters
Displays user selectable alerts
Expandable
---
The Derringer L5P tuner is the only option you should be plugging into your truck. The other guys claim big numbers but simply don't deliver! We tested every other tuner on the same dyno, same day, same weather conditions, and with the same technician.

There's only so much you can do by just intercepting the fuel rail pressure sensor. That's where all the others fall short. The Derringer is the only tuner that actually utilizes your truck's ECM to make intelligent calculations. Hundreds of man-hours went into Derringer's development and the results are nothing short of impressive. Just look at these results below!
Dyno Results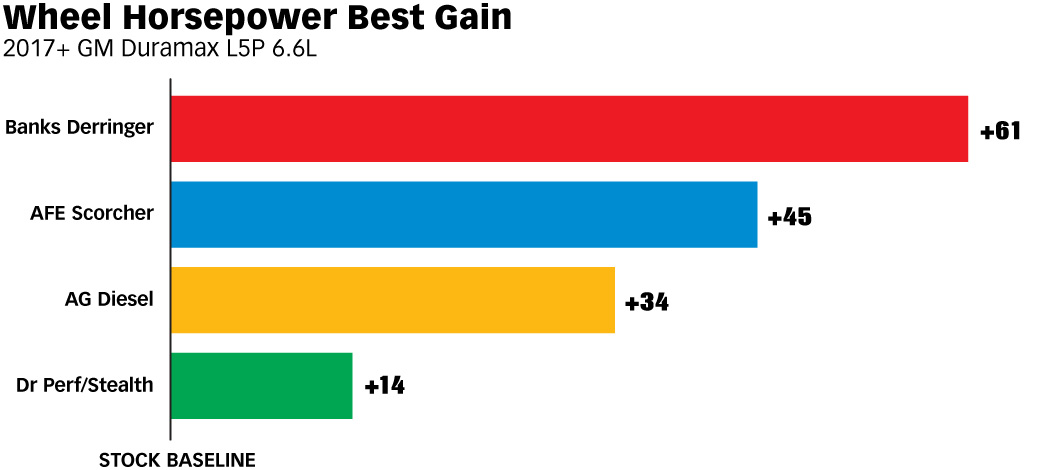 Without the combination of independent fuel and boost control along with the rich data provided by OBDII, no other tuner on the market provides the same level power gains consistant and reliably. Along with the power, Derringer also has these key saftey technologies
---
AutoRate® Dynamic Tuning
The Derringer calibration is continuously adjusting to provide peak performance under every driving condition. By utilizing the power of the OBD-II data, the tuner intelligently fine-tunes its calibration on the fly without you having to change its power level.
Exhaust Gas Temperature (EGT) - Monitors EGT and intelligently modulates fueling to maintain a safe maximum EGT, protecting your turbo and engine.
Altitude compensation - Senses ambient air pressure, controlling the turbocharger to maintain added boost and power as altitude increases.
Diesel Particulate Filter (DPF) Regen - Monitors your DPF regen status to ensure the process completes successfully.
Accelerator Pedal Monitoring – Rolls in additional power progressively, optimizing for both part-throttle fuel economy and max power when you ask for it.
Full Power Timer - Allows for 30 seconds of wide-open throttle before transitioning to the recommended power level for sustained tow/haul.
Coolant Temperature Monitoring - Maintains safe power based on coolant temp.

During warmup, no power is added below 120° F
Power is ramped in and fully available above 150° F
If the coolant overheats for any reason, the Derringer starts removing its power at 230° F
Additional power is totally removed if you exceed 240° F
---
TransCommand® Active Transmission Safety System
The Derringer is calibrated to modulate power during shifting while ramping up hydraulic pressure for better engagement. Competitors lack OBD-II data and always add power at wide-open throttle causing excessive transmission, clutch, and torque converter slip.
Intelligent Shift Tuning - Shift signal is optimized for the power level protecting the transmission, increasing shift speed, and avoiding ECM power derates.
Boost and Fuel by Gear - Calibration is tuned for optimum traction and performance providing the right firmness of shift automatically.
Tuned Hydraulic Pressure - Ramps hydraulic pressure faster than stock, maintaining engagement as power is added safely within factory limits.
Torque Converter Clutch (TCC) Monitoring - Adjusts TCC slip to safe levels, lowering fluid temperature, and preventing extended wear.
Transmission Slip Monitoring - Light throttle shifts remain smooth and firm, full-throttle shifts are solid and decisive.

This reduction in slip time also improves acceleration performance, an added benefit!
---
ActiveSafety® Health Monitoring
The Derringer is the only tuner available that includes Active Safety® health monitoring circuitry.
Internal diagnostics check system 50 times per second
Checks MAP and FRP signals and monitors CPU activity
Activates in event of failure or loss of 12V power

Bypass relays smoothly return stock power
with no loss of power or "Limp Home" Mode.
---
A Throttle Booster Like No Other
PedalMonster is the first OBD-II connected throttle sensitivity controller for gas and diesel vehicles, and is tuned to eliminate your factory dead pedal feel and throttle delay.Controlled via Banks iDash or mobile app (iOS and Android) PedalMonster is the only module of its kind to offer safety features like ActiveSafety®, Reverse Safety and Adjustable Low-Speed Trim. No other throttle booster has the same level of safety, ease of install, and additional features.
City, Sport, and Track modes, with 10 sensitivity levels
50-State Emissions Compliant
Simple plug-and-play installation
Warranty friendly. Does not leave footprint
Powered by +12V via OBD, not low-overhead 5V circuit
Control and view PedalMonster's activity in real-time via iDash and mobile app
Adjustable Low-Speed Trim controls how fast sensitivity is added at slow speeds
---
Tailor Your Throttle Response And Feel
City, Sport, and Track, each with 10 levels of refinement, allows you to tune out "dead spots" found in many pedals, making your throttle more responsive. PedalMonster can be adjusted on-the-fly through the iDash and phone application. Simply take your foot off the pedal momentarily to adjust the mode or sensitivity level.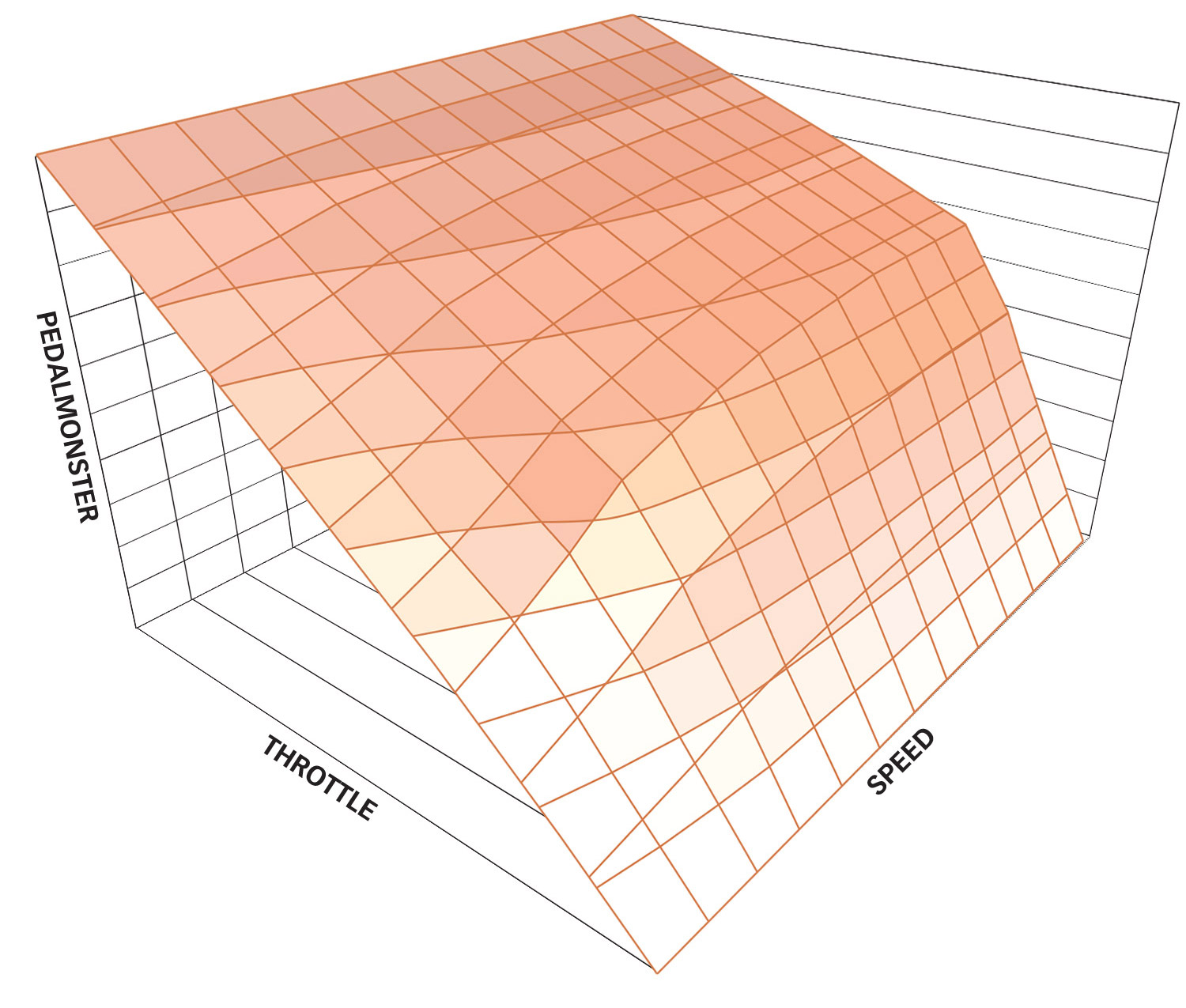 TRACK
Ideal For Track Use
Get into power soonest
Enhanced light throttle sensitivity
---
SPORT
Sportier Feel
More responsive experience
Stronger midrage power delivery
---
CITY
Linear feel
Smooth driving experience
Power focused on higher range
---
OBD-II Connected Safety Features
PedalMonster is the ONLY throttle sensitivity controller connected via the vehicle's +12 Volt OBD-II port allowing for unmatched control and safety.
ActiveSafety®
In the event of an internal or external circuit failure, the system seamlessly returns the pedal to stock.
When all other devices fail, they leave the vehicle inoperable leading to dangerous situations.
Reverse Safety
PedalMonster returns the vehicle to stock throttle response when in reverse gear so you dont end up flying out of the garage backwards.
Adjustable Low-Speed Trim
This helps to avoid spinning the tires in low speed turns or on slippery surfaces by reducing throttle boosting under 10mph.
---
The Only Gauge You'll Ever Need
Vehicle Monitoring like no other! - Banks iDash DataMonster open a portal into the vital inner workings of your vehicle, letting you see what's beyond the dashboard. This instrument monitors and data logs multiple vehicle parameters (such as speed, EGT, AFR, RPM, and engine temp) as well as calculate Banks proprietary information such as manifold air density, intercooler effectiveness and more.
View up to 8 sensors on screen
Customize screen layout and colors
Datalog over 100 parameters at once
Reads and Clears "Check Engine Light"
Built-in shift, RPM light, or custom alerts
Built-in sensor for automatic night dimming
Adjust and control Derringer and PedalMonster settings
---
Data-Log and view up to 100 parameters!
Offering data-logging capability, a single iDash DataMonster you can display up to eight parameters at a time, but with more iDash gauges, you can keep your eye on even more. By connecting up to four iDash SuperGauges or DataMonsters, you increase the total monitoring and control. With this configuration you can see up to 32 gauge readings at the same time to monitor much more of what is going on under the hood. Crazy right! If you're into big data, this is the SuperGauge for you! Remember, you only need a single DataMonster version of the iDash for data logging, your remaining gauges should only be standard SuperGauges.
Easy Setup
Records to microSD card
One-button Start/Stop feature
No limit to how long you can record*
On-screen indicator to confirm status
Records at up to 20 samples per second
Choose which parameters you want (up to 100)
*With 4gb card, you can record for over a month straight. But we do recommend that you get some sleep!
Information at your fingertips
No computer required
Pause, fast-forward, rewind and step
Display any of the parameters recorded
Play back data-logs on the iDash gauge(s)
Review your data like the pros!
View and analyze your recorded data
Records in universal ".csv" file format
Transfer log files to your computer via microSD
Compatible with Excel and third party data viewing/analysis apps
---
Freedom to expand as you want, mount where you please!
Connect up to four iDash gauges
Connected iDash gauges work together
Standard 2-1/16" (52mm) diameter format

A-pillar, Steering column, Dash-mount, Banks windshield mount, Wherever!
Accurate Data
OBD-II (On-Board Diagnostics port) - Information is key, and you want it direct from the source. The Banks iDash pulls data straight from your OBD-II connector. That is the port where your vehicle's ECM (or brain) shares all of it's secrets and the iDash is more than happy to relate that information to you.
Not sure what all you could be monitoring?
Soo much data!
What... the 100's of parameters available over OBD-II isn't enough for you? Expand what you can do with additional modules from Banks Power! With our expanding line of performance sensor modules, you can monitor anything your heart desires from air density and pressure, to voltage, temperature, and so much more.
Plug and Play
High accuracy
Fast responding
Flexible configuration
Add over 40 additional sensors
View, data-log, set alerts with iDash
Easy firmware updates through iDash
Need more temp, pressure, or other sensors?: Look at our line expansion items specifically for the iDash
---
Be Prepared
Set safety alerts to your preference. No more relying on the dummy lights in your dash board to alert you after it's too late! The Banks iDash allows you to more accurately monitor system vitals, and alerts you to a problem before it's too late. With visual notifications, you will know right away that something is wrong, and what it is.
High visibility
Choose any parameter
On-screen notifications
Choose any color combination
Set custom low and high alerts
Monitor any Min/Max value you set
Adjust shift point to any RPM value
Warns of any potentially harmful conditions
Smarter than the "dummy" lights on your dash
Constantly monitored whether on-screen or not
The Doctor is in - Vehicle Diagnostics
Banks iDash opens a window into the vital inner workings of your vehicle's ECM, letting you see what's beyond your dashboard gauges. Check/Clear diagnostic codes at the touch of a button. And the best part? Logged events are defined in plain English, not just codes, so you don't need a factory manual, or a trip to the dealership, to know what you're looking at.
Monitor Vitals - Monitor vehicle functions accordingly, so you'll always know exactly what your engine is doing. Set your vehicle's safety zones and the Banks iDash will let you know where you stand. Replaces the dumbed-down factory gauges with informative displays.
Diagnose Problems - Check/Clear diagnostic codes at the touch of a button. And the best part? Logged events are defined in plain English, not just codes. Now you know what is wrong with your vehicle before taking it into the shop for repairs.
Review Max Values - With the Max Values screen, you can monitor to see just how high certain parameters are reaching. This allows you to focus on other things, like driving, and check back at your convenience to see just how hot your engine ran or RPMs revved.
The iDash is like having a personal technician
Make sure your vehicle is ready
Save money on repeated testing
Clear "check engine light" codes
Most codes are defined in plain English
Reads vehicle Emissions Systems status
Discover what is wrong with your vehicle
Know what to look into before SMOG testing
Know what's wrong before visiting a mechanic
---
Shipping Information
Item Requires Shipping
Free Shipping!
---