Home
-
Return to Previous Page
Big Hoss Diesel Tuner, with ActiveSafety for 2002 Dodge Ram 2500/3500 5.9L Cummins
Big Hoss® Diesel Tunerwith ActiveSafety®
for 2002 Dodge Ram 2500/3500 5.9L Cummins
Adds up to +70 hp and +180 lb-ft (rear wheel)
Doesn't tap the pump wire. Compatible with DynaFact gauges. Temperature limiting control w/opt Temp Limit Kit 63075.
50 State Compliant:
CARB E.O. D-161-94
Description
Banks Big Hoss Diesel Tuner pours on the Cummins power and delivers a host of benefits and built-in safety features. Does not require a T-tap on the pump wire. Adds up to +70 hp and +180 lb-ft with recommended airflow improvements. Fully compatible with DynaFact electronic gauges. If a pyrometer is used, tuner will automatically be enabled with a Temperature Limiting Control feature to keep exhaust gas temperatures in a safe range. Built-in torque converter clutch protection. When signal is delivered to lock the torque converter, additional fuel delivery is momentarily de-rated to eliminate clutch slippage. Incorporates a mission-critical safety-circuit design that functions as an engine and transmission watchdog. The built-in self-diagnostics ensure that the device has no negative effect on the vehicle's electronics. Competitively priced.
Adds up to +70 hp and +180 lb-ft (rear wheel)
Destroys the competition, not your vehicle!
ActiveSafety protects engine/powertrain
Compatible with DynaFact and iGauges
Doesn't tap the pump wire
Loaded with Features
Value Priced
Easy Install
Emissions Compliant: D-161-94
---
You 'Walk the Walk' Not Just 'Talk the Talk.' You ROCK!!

2006-03-06

Bob of Page, Arizona, installed a Monster Exhaust system, Power Elbow, Big Hoss Diesel Tuner and a High-Ram air-inlet casting on an '01 5.9L Cummins 24-valve turbo-diesel

I was driving a '66 Dodge pickup for 15 years. I finally got an 01' Dodge Turbo Cummins 2500 4-By...Used, but perfect!?white?beautiful! Stock, this truck was awesome. I say was, because with the Banks stuff I put on....it's now a freakin' "Beast." I Love My truck!!! You guys at Banks no doubt "Walk the Walk"...not just "Talk the Talk." You ROCK!!
---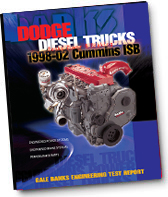 Here's the TEST REPORT for your vehicle!
View it right now online »
Details
62783

62783

801279627833

New
Categories
Performance Tuners|1998-2002 Ram 5.9L Cummins 24v ISB|Performance Parts for Dodge Ram Trucks
Shipping Information
Item Requires Shipping
5.0 lbs.
W5.0000" x H10.0000" x L12.0000"
Cyber Monday Free Shipping
---
---