Home
-
Return to Previous Page
Quick-Turbo System, with Boost Gauge for 1994-2002 Dodge Ram 2500/3500 5.9L Cummins
Quick-Turbo® Systemwith Boost Gauge
for 1994-2002 Dodge Ram 2500/3500 5.9L Cummins
Massive Instantaneous Torque
Developed to maximize turbo-diesel efficiency, Quick-Turbo provides massive instantaneous torque; BigHead Wastegate delivers quick, controlled turbo boost.
2001-2002 Hx35 only (245 hp engine)
Description
Banks developed the Quick-Turbo® in conjunction with the Holset turbocharger and Cummins Engine companies, to eliminate sluggishness out of the hole and produce strong acceleration. Quick-Turbo produces massive torque right from idle, achieves a higher peak faster, maintains more boost through the powerband, and doesn't over-boost. Banks exclusive BigHead wastegate actuator prevents wastegate blow-open by keeping the valve seated at higher pressures, increasing mid-range torque and top-end power.
Please note: The Quick-Turbo will not fit 2001-2002 models with the HY35 turbo (automatic transmission, 235-hp rated engine). The quick turbo will fit the 2001-2002 models with the HX35 turbo (manual transmission, 245-hp rated engine).
Quick-Turbo System for use with 1994-2002 Dodge 5.9L
Maximizes Turbo Diesel Efficiency
Provides massive instantaneous torque
Improves Midrange Torque
Improves Boost Response
Includes Boost Gauge
Emissions Compliant: Race Only
---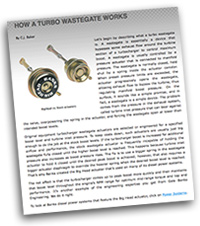 How a Turbo Wastegate Works: Let's begin by describing what a turbo wastegate is. A wastegate is essentially a device that bypasses some exhaust flow around the turbine section of a turbocharger to control maximum boost. A wastegate is usually controlled... <read more>
Details
24053

24053

801279240537

New
Categories
Turbo Components|1994-1998 Ram 5.9L Cummins 12v|1998-2002 Ram 5.9L Cummins 24v ISB|Performance Parts for Dodge Ram Trucks
Shipping Information
Item Requires Shipping
22.0 lbs.
W11.0000" x H11.0000" x L12.0000"
Cyber Monday Free Shipping
---
---