Home
-
Return to Previous Page
Stinger Bundle for 1999-2004 Ford F250/F350 6.8L, and 2000-2005 Excursion, No EGR, Late Catalytic Converter
Stinger® Bundle
for 1999-2004 Ford F250/F350 6.8L, and 2000-2005 Excursion, No EGR, Late Catalytic Converter
Gains up to +35 hp and +42 lb-ft, 5% more MPG
Optimizes airflow, air density, continuous power & MPG. Honors the host vehicle & improves longevity. Total Power System for Towing & Work.
CARB E.O. Not Required
Description
(1999-2005 6.8L) An economical alternative to the PowerPack, Stinger works hard and plays hard. Rear-wheel gains up to +35 hp and +42 lb-ft; 5 percent more MPG. 1999-2005 6.8L Super-Duty Pickup and Excursion: Banks Stinger is an economical alternative to the PowerPack, producing rear-wheel gains to +35 hp, +42 lb-ft torque and 5 percent better mileage. Hauling a payload or big toy? Stinger has the substance to tackle many heavy-duty jobs, and makes play-time a lot more fun, too. Gasoline: 6.8L (V-10), 1999-2005. Test vehicle: 1999 Ford F-350 crew cab dually; 6.8L Triton V-10; 4R100 4-speed automatic; 4.10 rear axle ratio; 7500 lbs solo weight; 20,000 lbs combined towing weight. Horsepower and torque measured at rear wheels. Systems do not fit 2005 (3-valve) vehicles designated by a V in the 8th position of the VIN number.
Stinger Bundle, Power System for use with 1999-2005 Ford 6.8L Excursion
Optimizes airflow, air density, continuous power & MPG
Honors the host vehicle & improves longevity
Rear-wheel gains up to +35 hp and +42 lb-ft
Total Power System for Towing & Work
5% more MPG
CHROME tip
Emissions Compliant: E.O. Not Required
---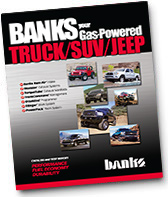 Here's the TEST REPORT for your vehicle!
View it right now online »
Details
49139

49139

801279491397

New
Categories
Power & Efficiency Systems|1999-2010 Ford 6.8L|Ford Performance and Upgrades
Shipping Information
Item Requires Shipping
69.0 lbs.
W21.0000" x H13.0000" x L65.0000"
---