Home
-
Return to Previous Page
PowerPack Bundle for 1997-2004 Ford Class-C Motorhome 6.8L, E-350
PowerPack® Bundle
for 1997-2004 Ford Class-C Motorhome 6.8L, E-350
Gain +53 hp/+69 lb-ft, plus up to 7% more MPG
Gain up to +53 hp/+69 lb-ft. Up to 7 Percent more MPG. Chrome tip.
50 State Compliant:
CARB E.O. D-161-65, D-161-76
Fits Class-C, E-350 No EGR
Description
Banks engineers dramatically improved the V-10's airflow and optimized engine efficiency. Best gains: +53 hp and +69 lb-ft, and 7% more MPG. Although the 6.8L V-10 Triton has two more cylinders than Ford's discontinued 7.5L V-8, its nominally 10% smaller capacity makes optimal engine efficiency critical to power production. If there's one thing Banks engineers know, it's that engine airflow is the key to efficiency and power. That expertise earned Banks the record for World's Fastest Motorhome: a PowerPacked Ford 6.8L V-10 Class-C Chinook that blasted past General Motor's record at 99.7 mph!
Banks' stainless-steel PowerPack unleashes best gains of +53 hp, +69 lb-ft torque, and 7% more MPG.
---
Important: Some vehicle configurations require an extension kit for proper fit. Exhaust extension kit required for longer wheelbases. Measure wheelbase length from center front wheel to center drive wheel.
Vehicle is EGR-equipped (1999 models only) if a large threaded fitting is present on top of second port of driver's side exhaust manifold.
Class-C motorhome is Super-Duty (E-450) if catalytic converter inlet has slip connection.
Class-C motorhome is E-350 if catalytic converter inlet has 3-bolt flange.
2004 and later Fleetwood-Power Platform and National RV-Duraframe models - product does not fit
---
Optimizes airflow, air density, continuous power & MPG
Honors the host vehicle & improves longevity
Gain up to +53 hp/+69 lb-ft
Up to 7% more MPG
CHROME tip
Emissions Compliant: D-161-65, D-161-76
---
---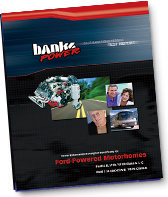 Here's the TEST REPORT for your vehicle!
View it right now online »
---
Includes: Ram-Air Oiled Filter, Air Filter Service Kit, TorqueTube Exhaust Manifold System, Monster Exhaust System, Extension Pipe, Chrome Tailpipe, Heatshield, Banks Power Urocal, CARB Decal, Includes all necessary hardware.
Details
49476

49476

801279494763

New
Categories
Power & Efficiency Systems|Ford Performance and Upgrades|RV Motorhome Performance Upgrades
Shipping Information
Item Requires Shipping
158.0 lbs.
W22.0000" x H15.0000" x L57.0000"
---