Home
-
Return to Previous Page
Banks Ram-Air, Oiled Filter, Cold Air Intake System for 2001-2010 GM Class-A Motorhome 8.1L, W-Series
Banks Ram-Air®Oiled Filter, Cold Air Intake System
for 2001-2010 GM Class-A Motorhome 8.1L, W-Series
Flows 66% better than stock for better Power & MPG
(W-Series) Replaces constricted factory setup flows up to 66 Percent better than stock. Large custom filter housing cover Tubing Adapter Includes filter service kit
50 State Compliant:
CARB E.O. D-161-103
Description
Banks Ram-Air Superiority.
On W-Series Workhorse motorhomes, Banks Ram-Air intake system replaces the constricted stock setup for up to 66 percent more airflow than stock. The high-flow Ram-Air filter does away with intake obstructions so more cool, dense ram-air can make its way into the cylinders. The filter housing cover and tubing are larger than stock to enhance flow. And the Banks adapter enlarges the air filter box inlet to significantly improve airflow and power output.
Ram-Air Cold-Air Intake System, Oiled Filter for use with 2001-2010 GM 8.1L W-Series Motorhome
Enclosed housing keeps out hot, power-robbing engine air
Extends service life and requires fewer cleanings
Inhales cooler outside air for more power & MPG
(W-Series) Replaces constricted factory setup
Giant filter maximizes high-flow filtration
flows up to 66% better than stock.
Large custom filter housing cover
Accommodates engine movement
Extensively tested & validated
Prevents component damage
5-year Limited Warranty
Helps engine run cooler
Includes filter service kit
OILED Air Filter Element
Emissions Compliant: D-161-103
---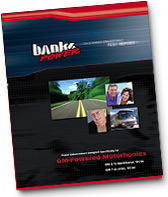 Here's the TEST REPORT for your vehicle!
View it right now online »
FAQ
Details
49194

49194

801279491946

New
Categories
Cold Air Intake Systems|RV Motorhome Performance Upgrades
Shipping Information
Item Requires Shipping
81.0 lbs.
W15.0000" x H22.0000" x L57.0000"
Free Shipping!
---