Home
-
Return to Previous Page
Banks Ram-Air, Oiled Filter, Cold Air Intake System for 1987-1998 Ford F250/F350 7.5L
Banks Ram-Air®Oiled Filter, Cold Air Intake System
for 1987-1998 Ford F250/F350 7.5L
Delivers cool, dense air to cylinders
Streamlined TwinRam air filter cover (except '96-97 CA pickups) Ford 460 Truck, EFI Includes service kit for use every 30,000-50,000 miles Oiled Air Filter Element Only works with Dual Inlet Filter Cover
50 State Compliant:
CARB E.O. D-161-80
Description
Experience Banks Ram-Air superiority with a streamlined TwinRam High-Flow air filter cover that flows more cool dense ram-air into engine. 5-year Limited Warranty
Ram-Air Cold-Air Intake System, Oiled Filter for use with 1987-1998 Ford 460 Truck*, EFI (Electronic Fuel Injection).
*(except 1996-1997 CA pickups)
Enclosed housing keeps out hot, power-robbing engine air
Inhales cooler, denser outside air for more power & MPG
Extends service life and requires fewer cleanings
Only works with Dual Inlet Filter Cover
Molded, streamlined filter housing
Accommodates engine movement
TwinRam adds 8 hp all by itself!
Extensively tested & validated
Prevents component damage
5-year Limited Warranty
OILED Air Filter Element
Helps engine run cooler
Includes service kit
Emissions Compliant: D-161-80
---
Banks starts adding power and torque right at the nose by increasing ram-air induction. The streamlined TwinRam filter cover* and reusable Ram-Air filter decrease intake restriction, dramatically outflowing stock.
---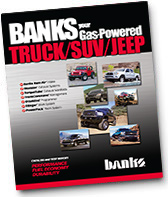 Here's the TEST REPORT for your vehicle!
View it right now online »
FAQ
Details
49216

49216

801279492165

New
Categories
Cold Air Intake Systems|1988-1997 Ford 7.5L|Ford Performance and Upgrades
Shipping Information
Item Requires Shipping
6.0 lbs.
W10.5000" x H8.5000" x L14.5000"
Free Shipping!
---