Home
-
Return to Previous Page
Banks Ram-Air, Oiled Filter, Cold Air Intake System for 1997-2005 Ford Class-A Motorhome 6.8L
Banks Ram-Air®Oiled Filter, Cold Air Intake System
for 1997-2005 Ford Class-A Motorhome 6.8L
Banks Ram-Air Superiority, Improves flow up to 61%
Replaces puny factory inlet and improves flow up to 61 Percent. Includes Streamlined housing, Mandrel-bent tubing, Super-Scoop, service kit for use every 30,000-50,000 miles and an Oiled Air Filter Element.
50 State Compliant:
CARB E.O. D-161-80
Description
Banks Ram-Air Superiority. Banks Ram-Air intake system replaces the constricted stock setup for up to 61 percent more airflow than stock. The high-flow Ram-Air filter does away with intake obstructions so more cool, dense ram-air can make its way into the cylinders. The filter housing cover and 3.5 inch transfer tube are larger than stock to enhance flow. And Banks mammoth grille-mounted Super-Scoop forces a big charge of cool, pressurized ram-air into the engine for greater power.
Ram-Air Cold-Air Intake System, Oiled Filter for use with 1997-2005 Ford 6.8L Class-A Motorhome
Enclosed housing keeps out hot, power-robbing engine air
Extends service life and requires fewer cleanings
Inhales cooler outside air for more power & MPG
Giant filter maximizes high-flow filtration
Accommodates engine movement
Extensively tested & validated
Prevents component damage
Helps engine run cooler
Replaces puny factory inlet
Improves flow up to 61%
OILED Air Filter Element
5-year Limited Warranty
Includes Super-Scoop
Streamlined housing
Mandrel-bent tubing
Includes service kit
Emissions Compliant: D-161-80
---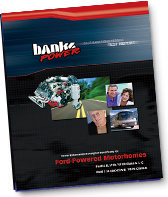 Here's the TEST REPORT for your vehicle!
View it right now online »
FAQ
Details
49190

49190

801279491908

New
Categories
Cold Air Intake Systems|Ford Performance and Upgrades|RV Motorhome Performance Upgrades
Shipping Information
Item Requires Shipping
81.0 lbs.
W15.0000" x H22.0000" x L57.0000"
Free Shipping!
---