Home
-
Return to Previous Page
Exhaust Header System, TorqueTube Exhaust Header with hardware for 2000-2006 Jeep Wrangler 4.0L, 2000-2001 Cherokee and 1999-2001 Grand Cherokee
Exhaust Header SystemTorqueTube Exhaust Header with hardware
for 2000-2006 Jeep Wrangler 4.0L, 2000-2001 Cherokee and 1999-2001 Grand Cherokee
Quicker, more power, and tough construction
Built from heavy 400 stainless, replaces crack-prone stock piece. Easy bolt-on installation. Thick 1/2-inch flange is double welded, machined dead flat and precisely fitted to resist warping and cracking.
US Patent #6,634,171 B1
50 State Compliant:
CARB E.O. D-161-105
Description
With more power, quicker acceleration and tougher construction than ever, the Banks TorqueTube® for the Jeep 4.0 liter out muscles any competitive exhaust manifold: period! Made from super-durable, mandrel-bent 409 stainless steel tubing and sporting a 1/2"-thick precision ported and machined flange. Powering through the roughest terrain is no longer a question.
And cracking... a thing of the past when you arm your Jeep with Banks TorqueTubes.
Virtually indestructible 100% Stainless Steel
Mandrel-formed tubes tune exhaust flow for maximum torque
Maximize exhaust extraction
Flanges welded on both sides, then milled flat
Seamless high-velocity collector
Pulls exhaust and slashes backpressure
Heavy 400 stainless replaces crack-prone stock piece
Bolts on
1/2 inch thick flanges won't warp or flex
Emissions Compliant: D-161-105
US Patent #6,634,171 B1
---
Banks TorqueTube Manifold features:
Non-deforming manifold outlet seal
Self-aligning exhaust seal will never compress or blow out • Bolts easily to stock exhaust
Manifold tubes fully welded
Each tube is welded to the flange twice, inside and out
Super-duty manifold flanges
1/2"-thick flanges never warp or crack • Computer-controlled machining • Precision port-match to cylinder head
Unrestricted Exhaust Ports
Tubes sized and shaped to match cylinder-head exhaust port
Precision-milled manifold flange
Milled dead-flat after welding, for durability and a perfect seal every time
Stainless Steel
Sustains exposure to ultra-high temps for superior durability • Mandrel-bent tubing for better airflow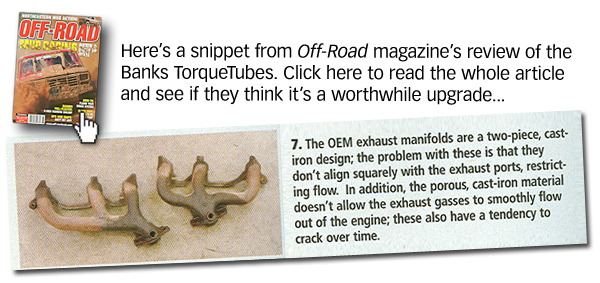 Details
51306

51306

801279513068

New
Categories
Exhaust Manifolds & Headers|1987-2001 Jeep Cherokee/Comanche 4.0L|1991-2006 Jeep Wrangler YJ/TJ 4.0L|Performance Parts for Jeep Vehicles
Shipping Information
Item Requires Shipping
20.0 lbs.
W20.0000" x H8.0000" x L31.0000"
---