Home
-
Return to Previous Page
High-Ram Intake System for 1998-2002 Dodge Ram 2500/3500 5.9L Cummins
High-Ram® Intake System
for 1998-2002 Dodge Ram 2500/3500 5.9L Cummins
Improves Response & MPG
Improves airflow from the intercooler. High-Ram raises boost without increasing backpressure at the turbine. Result: a more responsive, fuel-efficient engine. from the intercooler.
50 State Compliant:
CARB E.O. D-161-107
Use with stock boost tube.
Description
Cooler, denser air packs real power. That's an absolute fact. So why would you choke off all that power-packed air at the last second on its way from the intercooler to the intake manifold? That's exactly what the stock air intake does.
The 3 inch Banks High-Ram changes all that. Designed on the computer using computational fluid dynamics, tested on the flow bench and proven on the dyno, High-Ram is much more than just another pretty air inlet.
Don't blow your last chance to add vital turbo boost to your engine. Whether you're just starting out or you've already made major aftermarket modifications, go for the Banks High-Ram.
Improves airflow from the intercooler
Raises boost without increasing turbine drive pressure
Larger and less restrictive than stock intake
Improves flow of oxygen-rich air into cylinders
Quicker throttle response
Out-boosts the competition by up to 56.9 percent
The factory inlet is cramped and angular compared to Banks larger, streamlined cast-metal High-Ram
Use with stock boost tube
Red Powdercoat Finish
Emissions Compliant: D-161-107
---
Breaking News!
Banks has done it again. Our value-priced 3 inch High-Ram wastes the competition.

High-Ram Air Intake Elbow for use with 1998-2002 Dodge 5.9L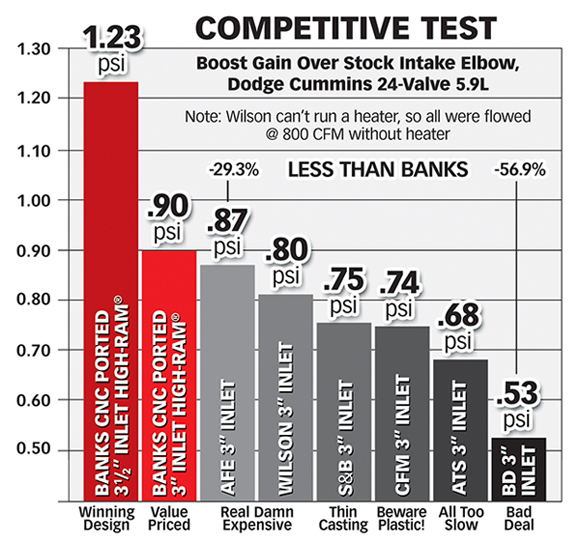 The factory inlet is cramped and angular compared to Banks' larger, streamlined cast-metal High-Ram. Proof positive that Banks High-Ram outflows the competition by anywhere from 29 to nearly 57 percent! Did we rig the test by doing anything to hurt the other guys' product performance? No way. We just kept improving ours until we put them all back on the trailer.
RAMMING IT TO THE COMPETITION

Being an engineer as well as a competitive-as-hell hot-rodder means pursuing every airflow advantage possible. Back in '98, my original Dodge High-Ram crushed the flow of the stock elbow. This established yet another path to enhanced diesel power and mileage. But it also invited a slew of imitators, offering knock-off, pretender versions. Because they've essentially copied our original, the competitors' numbers look pretty good.

They say imitation is the sincerest form of flattery. Well, as much as I appreciate the compliment, it's reality-check time for Banks' competitors. At Banks, we settle for nothing less than the top of the market when it comes to performance.

We've taken a fresh look at our original High-Ram design and I've got some bad news for the competition?we're releasing a new generation High-Ram that blows away our original design and therefore everything else on the market.

SIZE MATTERS
Our new 3-1/2" CNC High-Ram out-boosts its nearest competitor by 26.8% and that competitor is our new 3" CNC High-Ram.

As for the others we beat them by 29.3% for AFE all the way to 56.9% for BD.

This leaves the competitors with a dilemma. Will they just copy Banks all over again? Probably. But for customers who appreciate quality, credentials, and true engineering, Banks is the only game in town. And? we've got the records to prove it!
Details
42721

42721

801279427211

New
Categories
Intake Elbows|1994-1998 Ram 5.9L Cummins 12v|1998-2002 Ram 5.9L Cummins 24v ISB|Performance Parts for Dodge Ram Trucks
Shipping Information
Item Requires Shipping
8.0 lbs.
W8.5000" x H8.5000" x L14.5000"
Free Shipping!
---
---