Home
-
Return to Previous Page
Monster-Ram Intake System, 3.5-inch (red powder-coated), includes Boost Tube for 2003-2007 Dodge Ram 2500/3500 5.9L Cummins
Monster-Ram® Intake System3.5-inch (red powder-coated), includes Boost Tube
for 2003-2007 Dodge Ram 2500/3500 5.9L Cummins
Out-boosts the competition by up to 56.9%
Monster-Ram raises boost without increasing backpressure at the turbine by Improving airflow from the intercooler. Result: a more responsive, fuel-efficient engine. Has six 1/8-inch NPT ports! Includes boost tube.
50 State Compliant:
CARB E.O. D-161-107
Description
The Banks Monster Ram is the highest performing Cummins Intake Elbow on the market, outflowing all competitors including our previous designs!
Delivers instant torque
Quicker throttle response
Improves airflow from the intercooler
Larger and less restrictive than stock intake
Raises boost without increasing turbine drive pressure
Up to six 1/8-inch NPT ports
Includes 3.5-inch mandrel-bent boost tube
Out-boosts the competition by up to 56.9%
CNC port-matched for stock heater
and Banks Billet Heater Delete
Emissions Compliant: D-161-107
---
---
No Other Elbow Beats Banks
At Banks Power, just enough is never enough when it comes to engine airflow. Maximum power, performance, and efficiency are the ultimate goals, but to make it all happen the engine has to breathe freely and without needless restrictions. Finding ways to pump your engine full of cooler, denser air has always been the key. Our High-Ram intakes have always whipped the competition, and now our new 3.5" Monster-Ram flat-out destroys even our own previous designs.
Extensively Tested
Utilizing the latest in electronic Computational Fluid-Dynamic technology, tested on the flow bench as well as on the dyno, and finally proven in the real world where the rubber meets the road, Monster-Ram is a beast that only Banks could have unleashed. A simple, direct-replacement casting, Monster-Ram is instant power, performance, and acceleration gratification.
Machined for Performance
It's the perfect upgrade whether you're just starting out or working to build a serious, purpose-built machine. With its six ports for water/meth/propane/nitrous injection (or pressure/temp. sensors), the sky's the limit for performance expandability. Monster-Ram is CNC port-matched to the stock heater as well as the optional Banks Billet Intake Heater Delete spacer.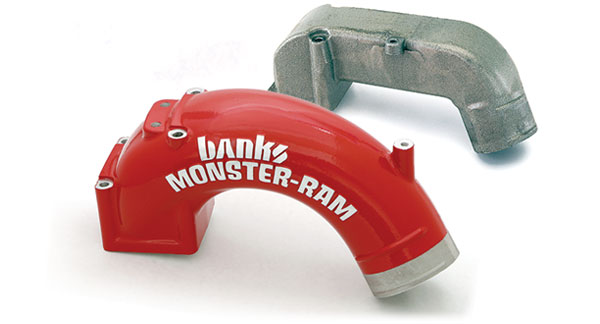 Above: Banks Monster-Ram versus stock inlet. Notice how cramped and angular the factory inlet is compared to Banks larger, streamlined cast-metal Monster-Ram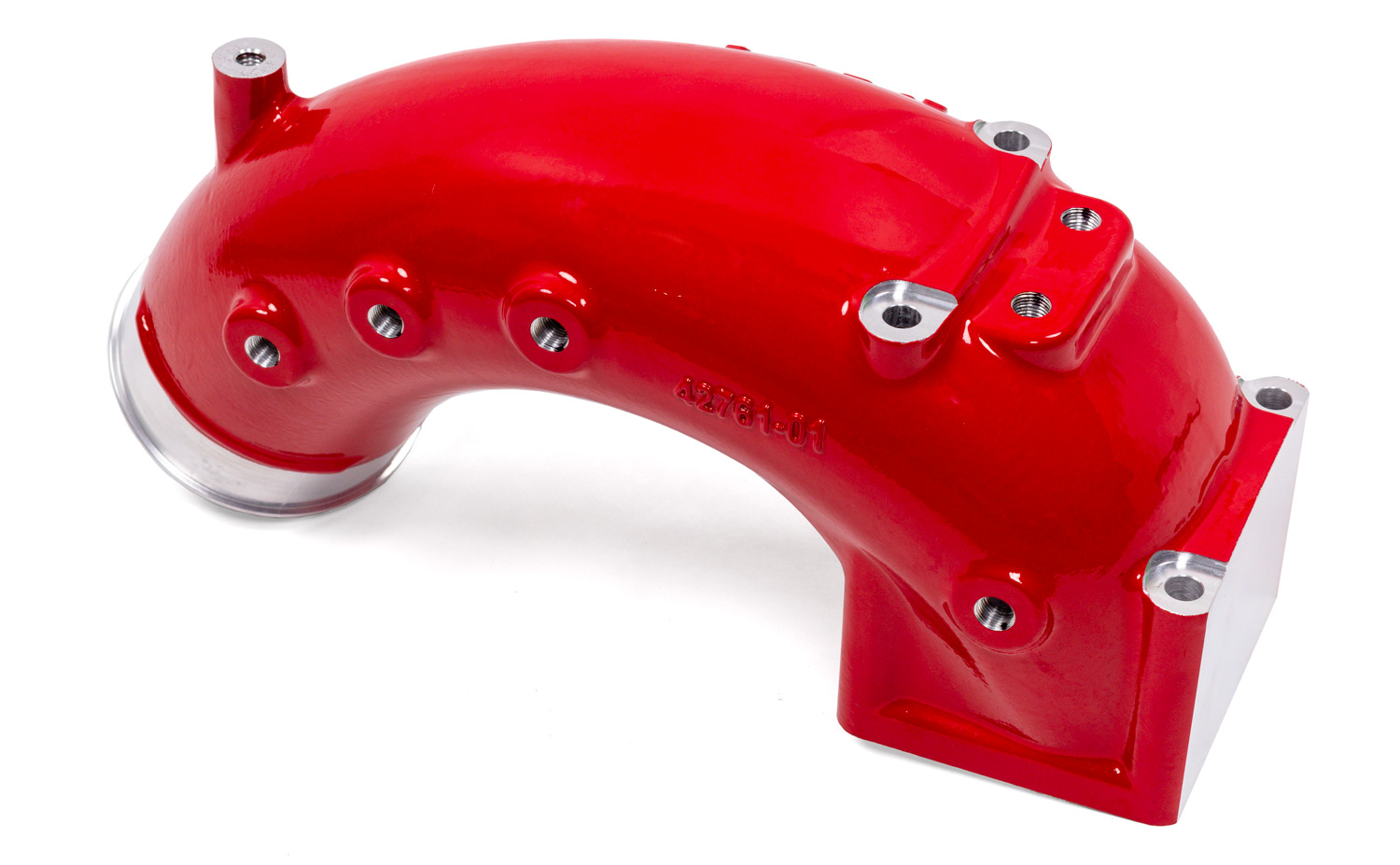 Above: With up to six ports for water/meth/propane/nitrous injection (or pressure/temp. sensors), the sky's the limit for Monster-Ram's performance expandability.
---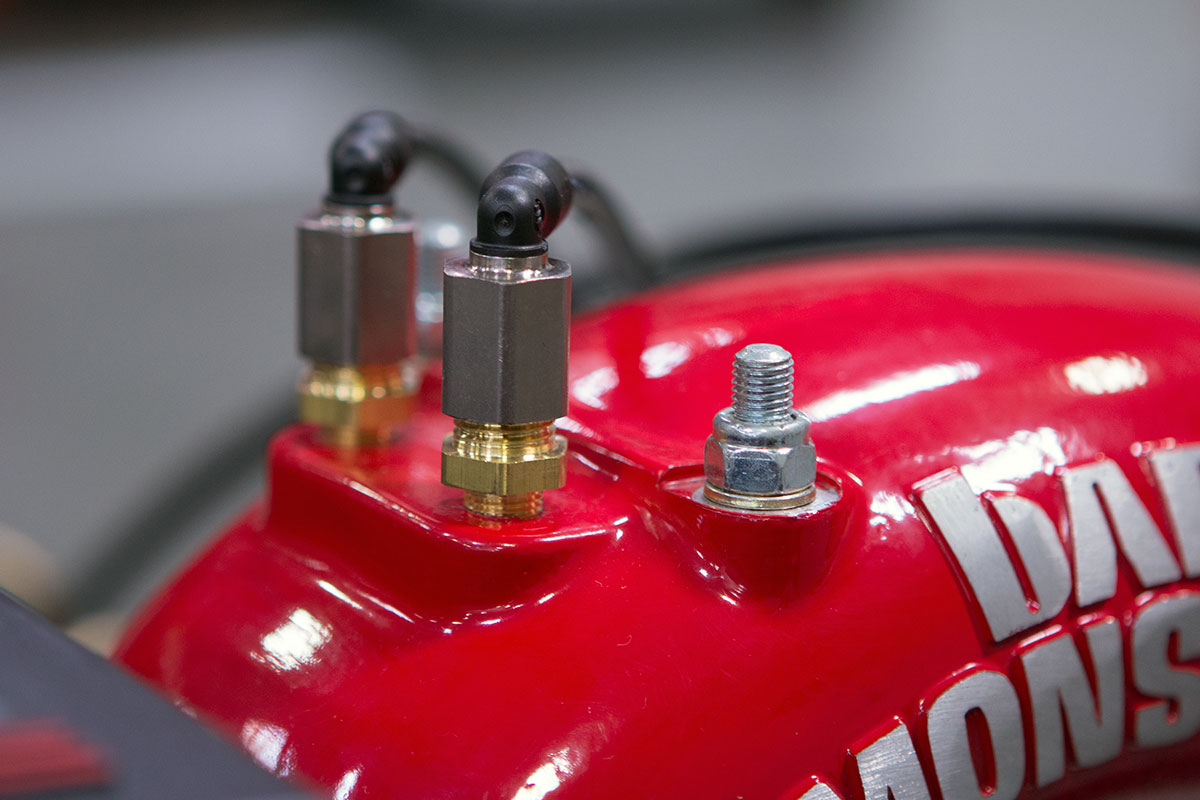 Close-up of ports being used for water-meth injection
---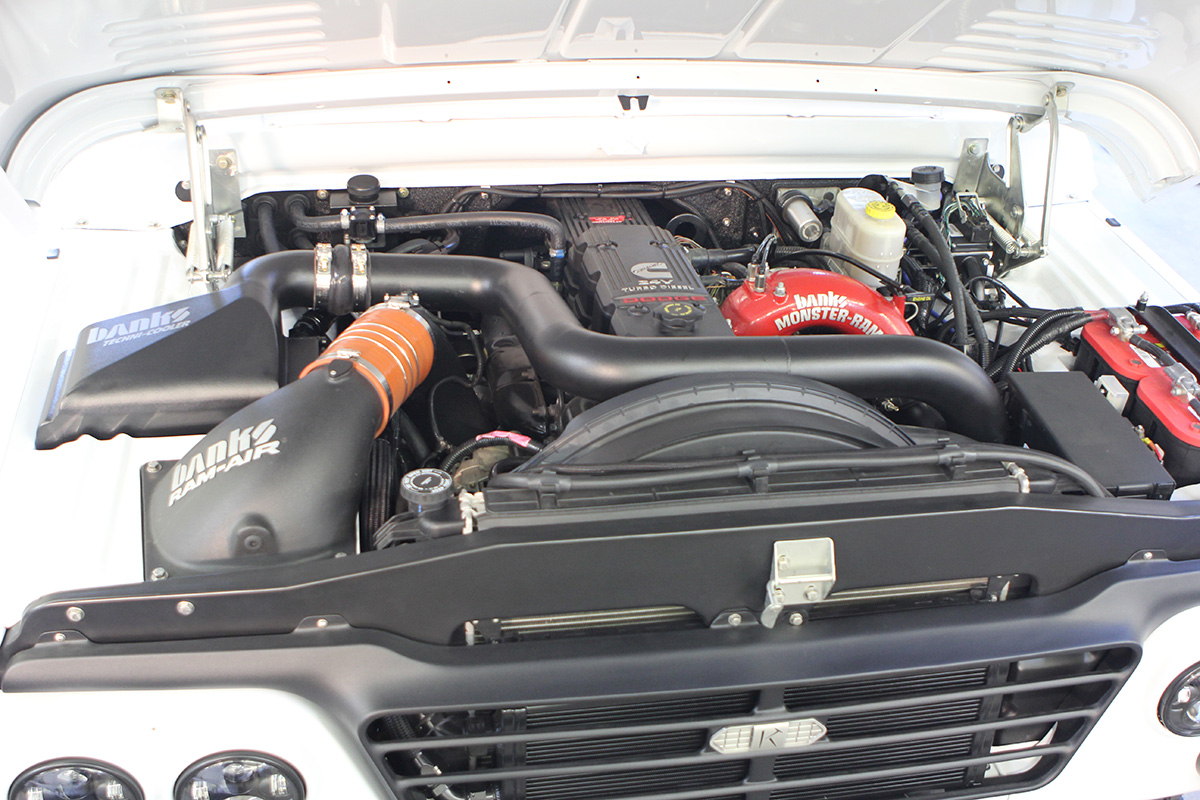 Installed on ICON's D200 (read about the ICON truck here)
---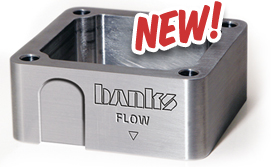 BANKS BILLET INTAKE HEATER DELETE
If you want another half pound of boost, our Banks Billet Heater Delete is just the ticket. And...unlike some setups, when winter comes, you can put the Heater back in.
Details
42766

42766

801279427662

New
Categories
Intake Elbows|2003-2007 Ram 5.9L Cummins|Performance Parts for Dodge Ram Trucks
Shipping Information
Item Requires Shipping
18.0 lbs.
W19.0000" x H14.5000" x L26.0000"
Free Shipping!
---